Hi dears,
Sorry for the recent blank of posts. I've been meaning to blog about the honeymoon trip but its really a long process and there are just too many photos. Instead, this is a followup post on Princess Christine's previous Honeymoon trip at Harris Resort Batam.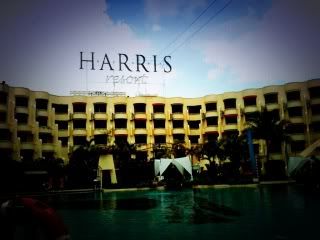 Its the perfect short getaway cos
its only an hour's ferry ride away
they transact in SGD so you dun have to worry about changing money
they hold quite a lot of activities within the resort, so that you don't really have to travel out
the staff and GM are really on the ground all the time, making sure that all guests have a really good time over there
We decided to go with the Honeymoon package, think its the same one that Christine took.
- 2 Days 1 Night accommodation including breakfast for 2 people
- Free land transfer from/to Waterfront City ferry terminal,
- Free CANDLE LIGHT dinner for 2 people,
- Free 2 hour Indonesian Massage at H Spa (1 hour 30 minutes Indonesian Massage and 30 Minutes Herbal/Milk bath) for 2 people
- Free WI-FI internet access within hotel area
- Inclusive of 21% government tax and service charge
- 1 free bowling session
- 1 free trip to Nagoya Hills Shopping District
- Complimentary welcome box of chocolates and fruits
However, we paid for the upgrade to Carbana Rooms which were really great.
Usually Harris will give a free upgrade for couples, however it was the easter wkend and we really wanted to secure the carbana room so we paid an additional SGD 50. We also extended one night at another 80 plus or so.
The Carbana Room was really worth the upgrade!
They were stand-alones, sort of like semi-detached chalets along the beach. There was abit of a mosquito issue, but Harris has white mesh veils installed over the bed which actually made the the whole place looked more romantic. =)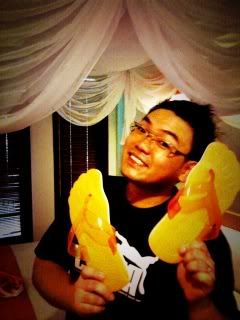 Cute orange feetcutouts slippers for use by Harris.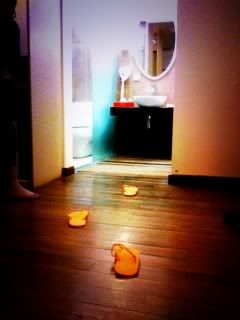 follow the trail to the open concept bathroom~
Just right outside the Carbana Room is our own sort-of balcony. With a day bed right at the edge, with a beach view.
After chucking in the luggage, we headed straight for H Spa! (I'm very much a spa-junkie heh)
We didn't manage to get many photos, but here are some gathered from the internet to show everyone how it is like.
H Spa at the top of the stairs. No lifts unfortunately.
Separate Rooms for spas at rooftop!
Inside each room are 2 massage tables, a shower area, and of course the bath.
After the refreshing massage, we dropped by the Korean Restaurant for a light meal.
After that, we went on to check out the whole resort.
The new Harris Funky Wing.
The pooldeck was all wooden and there were so many poolside rattan tables and chairs for the guests to rest on, while soaking in the sun.
M tapping onto the Hotel's Wifi to check his emails.
While i just lazed around thinking of what to eat later.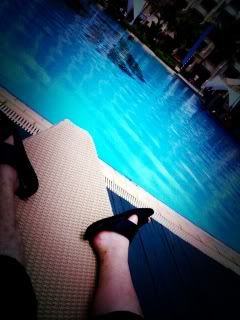 His legs.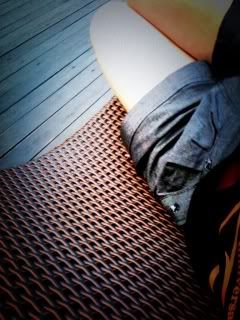 Mine.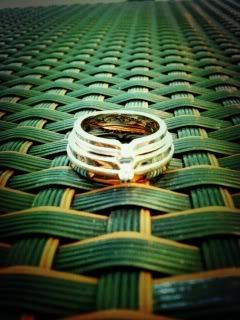 Our bands!
The whole black rattan concept was really really nice. I just had to take more photos!
M, not before long.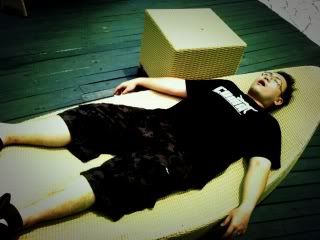 A totally applicable shirt. "Coma" with an upside down puma logo. HAH.
Not before long, it was dinner time.
We had a choice of our package candlelight dinner, or to have the Easter BBQ Feast.
It was a clear choice of BBQ seafood!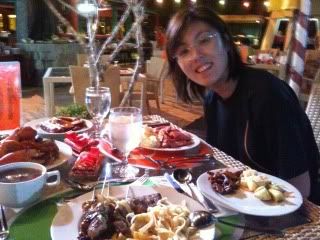 All the glorious food with liveband performance~
Since it was Easter, the hotel specially made arrangements for a local orphanage to come by to perform. All of the kids there lost their parents and family during the horrible Tsunami in Aceh. The hotel even arranged for a donation box to be set up at the hotel lobby for all guests to drop any amount of donations that will help see these kids through their daily expenses and hopefully provide education for some of them.
The kids sang a total of 3 songs, their voices so pure and touching that even God must have been touched by them. He sent a small drizzle, just minutes after their last song. =)
The light drizzle did not dampen the Harris spirit, which saw the whole staff, from the GM to the security guard at the gate coming in to help shift the whole dinner setup indoors, under the Funky Wing.
Their team spirit was indeed impressive.
Not only that, they even had the whole team dance and sing to songs while the dinner progressed. The GM was also seen bouncing along to the beat in the crowd.
The whole feeling was really gd!
The whole night ended off with HUGE fireworks as the drizzle died down, to celebrate the Easter weekend!
It was such an enjoyable dinner, that left a huge impression on M and I. We were enjoying ourselves so much that we stayed till the end, until the liveband finished their last song.
We were in such a happy mood still, so we headed to the H lounge, where we found a live singer that was there till after midnight!
We ordered a couple of drinks, and just lounged around to the melodious voice of the female singer as she belted out familiar english romantic tunes.
We finally returned to our Room and watched HBO till we fell aslp.
The second day, we went off for breakfast at the H restaurant and then took a bus ride provided by the package to the Nagoya Shopping District. It turned out to be a rainy day, so it was perfect for spending time indoors in the shopping centre.
Not much photos here as we didn't spend much time shopping. Instead, we walked around just window shopping and ended up in another massage place just right behind the A&W.
After that we went on for food at BFC, Best Fried Chicken which was just right opposite KFC.
It was a wet day so we had to cancel our poolplans back in Harris.
Instead, we headed to the bowling alley.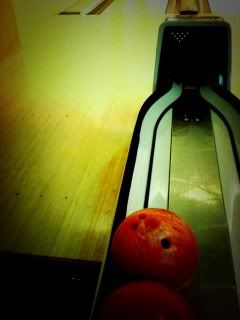 After that, we went back to the lounge and ordered some drinks and pizza while the live singer performed.
The pizza was really gd! Even though a bit heavily prized, but we felt that it was worth every cent.
Half rainbow and half pepperoni.
The rainbow pizza is really interesting. It has orange and and some other fruit in it, tasted really refreshing with the mayo topping.
Pepperoni was gd as usual. with egg and cheese. yummy.
M is of course, nth short to being satisfied.
After the whole lounging, we ended up back in the bowling alley. But this time round to play pool!
It was a good experience trashing M, wahhaah.
No lah, he taught me all the tricks and techniques.
So off we went back to bed, happy and satisfied.
The last day was a sunny day again.
We headed down to the pool after breakfast, just to thaw ourselves after the rainy day.
After that, we couldn't resist but ordered for room service.
Food was yummy, never fail to disappoint us.
After that, we just spent some time at the pool table again. Before tking the transport back to the ferry terminal and heading back to Sillypore.
Harris is definitely a gd stay for people who just want to have a gd holiday to rest and relax.
M and I enjoyed ourselves totally.
A definite good retreat away from the city life!