This may seem like a much overdue post on my july bdae, but still I wanna record the beautiful memories and yummy treats from woodblock on my bdae =)
When I open my eyes on the bdae morning, woodblock was no where in sight beside me. Instead, he woke up early in the wee hours(despite being a Sat morn) and bury himself in the kitchen whipping up an imperial cuisine for me - "
一品锅!!!!
" (Imperial Treasure Pot or The First Class Pot)
A short intro on what's the "The first class pot" is about:
孔府一品锅,由皇帝赐名。据说,清朝历代皇帝常到孔府,而孔府也常遣厨师进宫制作孔府佳肴,敬请皇太后、皇帝和后妃品尝。清朝承袭明朝品官等级制,官衔为一至九品,一品为最高,九品为最低,清朝将孔府列为当朝一品官的官府。因而,皇帝对孔府用鸡、猪蹄、鸭、海参、鱼肚等各种珍贵原料烹制成的汤菜,赐名为"当朝一品锅",成为孔府及所有一品官府名菜,历代相传。
Princess Christine's Translation:
The confucius's first class pot was a name bestowed by the emperor of china during the qing dynasty. During then, there were nine classes of officers with the First class officials as the highest ranking officers while the Nine class officials as the lowest class. Being highly regarded, the confucius's family is treated and known as the first class official's family. Therefore, the emperor calls the dish which make up of all the expensive and rare ingredients created by the confucius family as the "First Class Pot".
WAH SEY
Basically it is a dish which compose of all the superior ingredients like prawns, abalone, sea cucumber, scallop, mushroon, fish maw etc.... Limpets is one of my fav choice of a cheaper alternative for abalone =)
In order to ensure the essence of the various ingredients of the Imperial Treasure Pot is being brought out, woodblock opted for a slow cooker instead.
By the time he was done and serve up the imperial treasure pot in front of Princess Christine, his highness was already drooling from her crazily luxurious brunch!!!
OMG, I can still rem the crazily yummy taste of this dish!
All the ingredients used were my fav and I wish to bestow sir woodblock as my royal chef instead.
After the hearty breakfast, woodblock brought me down to Sentosa to take a stroll while waiting for the circus show to start.
I am a pretty good amateur PG at times.
As we were there pretty early, we went down to hard rock cafe to catch some quick bites instead.
Much to my dismay, I find the furnishing of the cafe at RWS still pretty blend and lack the ambience I was looking for in terms of the rock and roll style.
However, the generous serving of yummy hickory chicken wings redeemed everything else at one go.
The best part was the celery with blue cheese dip!!!
After an hour of wait, we were pretty upset that the circus show was canceled. In the end we have to postpone it and catch it on woodblock's bdae celeb instead. Good news was, RWS decided to give us complimentary upgraded ticket(2 levels of upgrade, from $68=>$108) seats to catch the show this time round. Yes I am a sucker for FOC deal. Furthermore, they will be providing us complimentary programme booklet.
After all the disappointment, we decided to head down to the singapore river area for a nice stroll.
Usually I prefer to take the natural shot of woodblock as he always becomes too tense when he is aware of me shooting at him. See isnt the smile so fake?
Next stop, fullerton hotel! Nope we arent spending our bucks on a hotel stay at fullerton. We were there to catch the largest Kueh Lapis cake on display!
As usual, when it comes to food, woodblock wants to have his fair share of the pie. So I was force to help him take a pic of "his blissful moment" to add on to his life journey accomplishments.
The Kueh Lapis Fullerton is simply gorgeous!!! After a fulfiling moment of admiring at the fullerton's chef great masterpiece, we headed to the food fair at clark quay river.
The fair was swarm with both locals and tourists! It was so difficult to find a table to dine at.
Woodblock enjoying some of the traditional foodfare.
After fillinf up our partially hungry tummies, we headed back to the merlion area to await for our ting kat cruise.
Guess what? There was a traditional puppet show held at the merlion!
It's been ages I have seen one since my kindergarden school days!
A pose with the MBS. My face looks kind of plump weeks ago after my disaster short haircut. I am so glad that my hair is now much longer and my face looks so much slimmer now.
While we were at the dock, I almost drool at the pretty tingkat which was suppose to be distributed to us to bring home as souvenir later!!! I have yet gotten a chance to bring my vintage chio ting kat out for a picnic session yet and I plan have one soon during school holidays.
Here's our cruise ride!
It was exciting to be seated at all the elaborately decorated tables. This candle is actually an electric candle but it looks so much like a real candle!! Very romantic. If only if I know where to get a candle like this, I will place it around my bedroom if I ever have a house next time.
Even the seats are adorned with comfy pretty pillows!
The whole boat felt like a mini banquet area as even the 2 corners of the board was decorated with centerpieces.
Princess Christine with the fabulous ting kat!
As for woodblock, he just cant wait to dig in!
The sumptous spread of traditional food fare from the 5 dialects!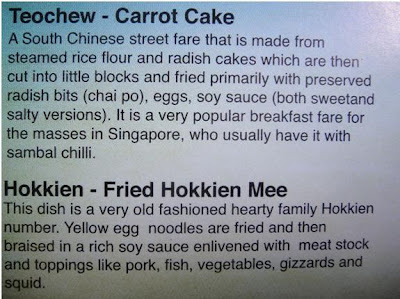 The hearty couple!
Cute mini chicken rice balls!
It was great savouring the yummy traditional food fare while enjoying the scenery ride along the singapore river. There was even a tour guide on the boat who will introduce to you about the various history of the singapore river.
The organiser was very thoughtful to prepare the recycle bags for us to do takeaway for our ting kats!
Princess Christine hopes to have such a vintage romantic dining again!