Second fitting didn't start off well.
M was feeling sick, so we had to set off without him. =(
Was kind of disappointed, but i rather him stay at home and rest than drive all the way down.
We arrived early, Christine, my mummy, my sista and me and had some coffee and tea with Jenny (her treat =]) while we waited for the MUA to arrive.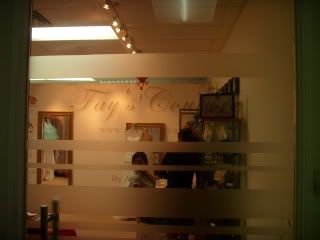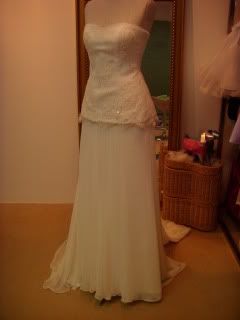 My gown on the mannequin.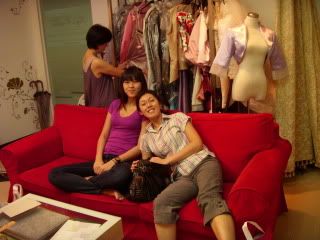 Keeping ourselves entertained while Christine caught my Mum snooping through the dresses.
My sis loves the way i look.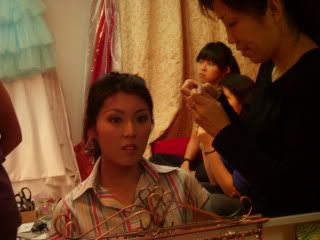 My sista the mushroom head.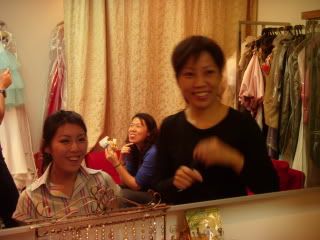 Bao the wacky post-night-shift woman surviving on Adrenaline from Macdonald's bf.
Jenny decided to add on something else for me.
=)
Next up, my favourite piece.
That's Jenny, checking me out, while I scratch my bum.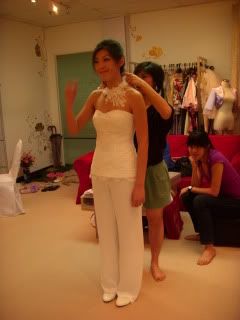 I love Jenny, she really knows what I want.
Last piece, which Christine and I are extremely worried about. I am always a bit reluctant to wear short skirts cos I dont have the greatest legs in the world. Christine thinks that it looks really odd and does not go with the top at all.
However, Jenny managed to pull it off again. She actually had additional layer below cos she was concerned that I was uncomfortable in short skirts. We decided to chop off the lowest layer as the length looked rather odd.
The short skirt was meant to be worn under the bustier top, but we decided to wear it over also.
In the end, Christine was most impressed with this piece and gave it the winning "good" thumb.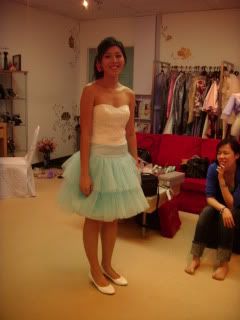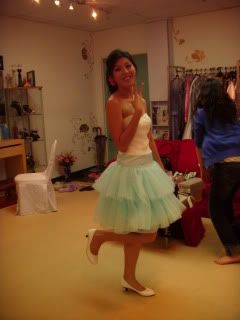 Forced by Christine to act cute.
More to be done on this, as Jenny is unsatisfied with the waist line of the skirt. She meant it to be hidden below, thus the lack of detailing.
I think its already very pretty though.
Jenny even made a cravat for M. =)
Here's me wishing that the mannequin is M instead. heh.
Thanks for the photos Christine~