It had been a tiring Saturday and Sunday morning!
Woodblock and Princess Christine Went down to the Tanjong Katong mall in search of our dream string curtains and guess what? At a much cheaper price of $58 compared to the plain ones sold at $99 in AMK Central (cost is for curtain width of 1.5m), we got ourselves a very nice string curtains which has silver streaks in between which makes it feel very cool indeed! For those who are interested in the string curtains with beadings, the shop also offers them at the same price. Almost wanted to buy them but i was thinking better dont buy a string curtain which is too black just in case my in laws doesnt like the super black colours. So we ended up buying one with silver streaks which is equally damn chio!!!
Previously we have also bought a black curtain rod rail from IKEA at 30 plus bucks.
So this morning, my father in law who seems to always been our savior in all technical stuff, helped us to do installation of the curtain rod before i cut the string curtains painstakingly into the right length =) and below is our new found mini reno design!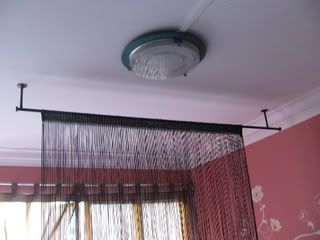 The curtain rod fixtures => nicely done up by my super FIL ( i hope woodblock will finally inherit these genes cos i love such DIYS)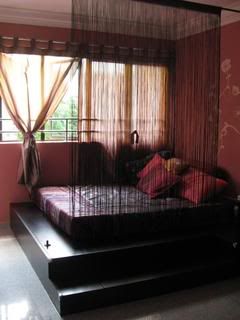 The romantic overview of our string curtains with our new incoming queen seahorse mattress. Notice how much more spacious it is and now with more step details you find that i has created a nice space for woodblock and me to play mini board games and even drink together =) The best place about this new curain fixture is that it has the versatility to put up diff curtains for diff feel
1) String curtains for romantic n modern feel
2) Translucent curtains for dreamy feel *which i am planning to get those reddish maroon ones if i manage to find for my wedding day+ it can used again during new year for some GOOD luck(HUAT AH!)*
3) Opaque curtains so that in future we can have some privacy from our future kids etc lol
4) Bead curtains whenever we feel like a havinga partying mood esp when i invite galfrens over next time for chilling out
so now i have explain why this curtain fixture is so vital in terms of deco and partitioning our small room to fully utilise it's space. The future projects now left will be only address many months later like our LCD tv with full motion wall mount + of cos our wedding photos when they are out! I already know the pic which I am choosing to use as wall display haha so that it will fit out the "fee" of our room
Woodblock and me shifted my ugly workdesk to one space so that it is away from our comfort and R&R (rest and relax) zone. Plus the messy books are hidden behind the cupboard, makes it feel less menancing to guests (actually up till now we have invited any friends over to visit our newly decorated room). In fact the last time when Hong, Qi and M, I swear it was super duper messy like some dog house.
If you have squinted your eyes fine enough you would have notice my new found gem on my work desk! Yes a gift from my 41 bosses. I love it to bits and i thanks the bosses who went out to find this gift. I think they must have telepathy with me because I seen this cup before and to be honest I was wondering if I will be lucky enough to receive it one day. I was really touched by their hard work and surprises for my bdae. I almost tear that morning when the 2 cakes came in one after another => it was never a regret how much i love them like my own family. Thank you so much little bosses!
Welcome to my romantic Room design by Princess Christine and done up with the help and love from my in law family!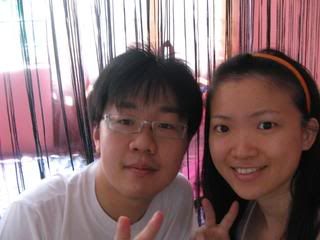 Well it's another victory to the little young couple isnt it?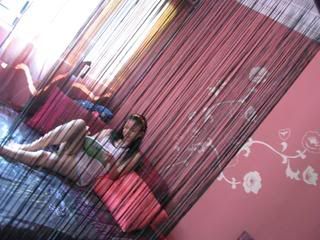 A good place where I can do some reading next time. I am already thrilled by this idea.
Woodblock was beat by the end of the curtain project.
Arigato dear woodblock and sweet dreams in this new romantic zone created by us =)