Quite a number of people have been asking about the candy buffet project ever since the wedding day and here are the photos to share with you guys.
Many thanks to Jingfang, who made the whole candy buffet table come alive with her expert flair in decor! She was the one who came up with the whole arrangement and display as well as the addition of a wishing tree to complete the whole very sweet and classic feel to the table and all in my favourite colour combi - tiffany blue, light blue, black and cream white!
And to the lovely sisters who helped put up the whole display, miao, ongchiew, px, ahber, you guys are great! Thanks for fighting the urge to finish all the candy. Even though we caught some naughty ppl who were stealing bits of them on camera. Nothing escapes our needle-eye-sharp photographers~
I adore it to bits, and feedback from the guests were fantastic! We were all sold out even before the banquet started.
I'll let the photos speak for themselves~
Can you spot a floral display in the stem of one of the candy jars?
And the chrome candy scoops?
Our lovely candy assistants with our Princess Christine in the far left.
I love you babe!
Personalised circular stickers with our monogram and a short thank you msg bordering it, as a seal for the bags of candies.
M & Y's Vintage Candy Shop Sign on a matching blue mini easel!
Tiered Lollipop Stand in Matching tiffany blue and black~
I love how the subtle blue and greens brings out the colour of the candies!
Vintage Sweet Treats Poster on Display Easel to play up the vintage feel a bit~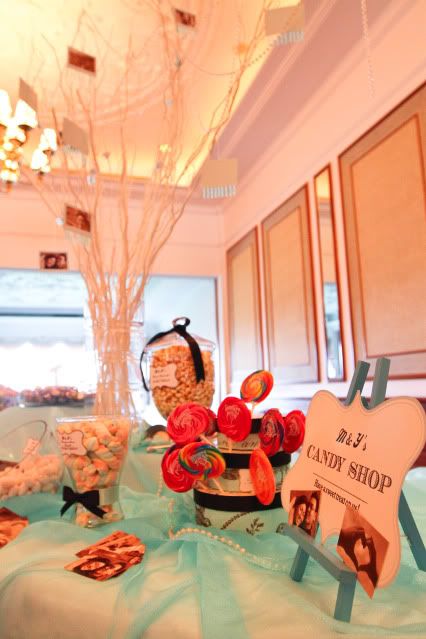 Wishing tree with classic pearls strung and our old photos in sepia for vintage feel.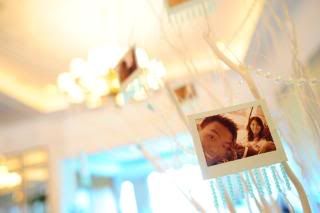 Tiffany blue beads strung under photocards. (alot of labourous work from ongchiew, px and jf once again~)
Ask me which candy i love the most?
Its this!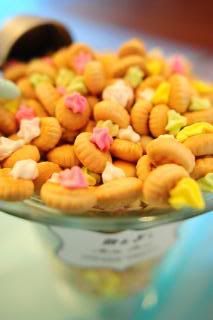 Love the flower biscuits. The lovely colours and how it reminds us of my childhood days always brings a smile to our faces whenever me and M see them~
Just a little of something M and I wanted to share with our guests!